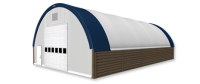 The QP-Series are quick-to-install, clear-span buildings designed for a variety of storage uses. They provide a naturally bright environment and are a low maintenance option for agricultural, storage and inventory warehousing.
Building Widths:
20', 22', 26' and 30' to any length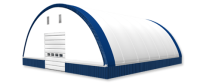 The QL-Series truss arch design makes it the most robust model in the Utility line of buildings. The 5' integrated eave provides better protection of feed bunkers from the elements.
Building Widths:
32', 40', 42', 50', 55', 63', 65', 70' and 72'
to any length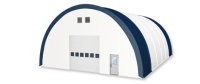 The A-Series building design is ideal for industrial and agriculture storage. The 6' and 8' leg extension option allows for increased clearance and storage capacity. Deeper truss depth results in fewer trusses for reduced labor, installation and shipping costs.
Building Widths:
30', 40', 50', 55' and 60' to any length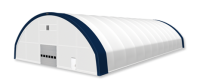 The H-Series building line is designed for agriculture storage and light industrial use where an economical building solution is important.
Building Widths:
32', 40', 42', 50', 55', 63', 65', 70' and 72' to any length
For Complete Commercial and Utility Product Line, 
or